HISTORY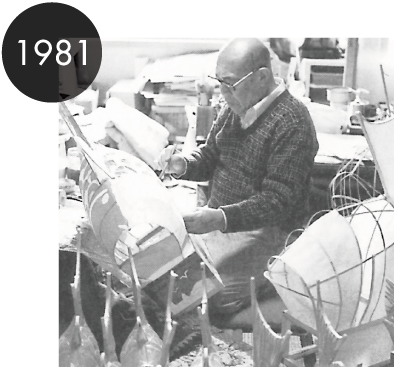 町で唯一の職人がいた
The only craftsman in Maki town
長谷川呉服店の店主だった長谷川初衛さんが鯛車を復活。この年から6月の巻祭りには長谷川さんがつくったたくさんの鯛車が登場した。
Mr. Hasegawa Hatsuei, who was the owner of the Hasegawa kimono shop, restored Taiguruma. Many of his Taigurumas began to appear at the Maki festival every June starting in 1981.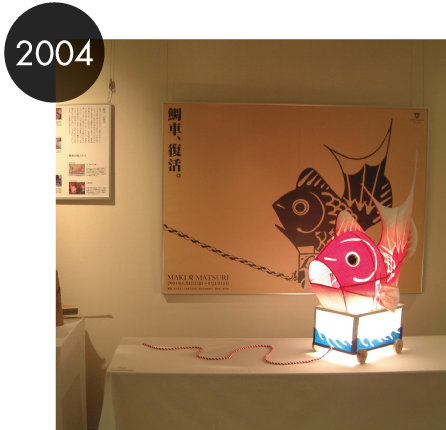 鯛車を大学の卒業制作に
Taiguruma appears in a graduation show
野口が大学の卒業制作で鯛車を1台、つくることに。このときには街にいた唯一の鯛車職人、長谷川さんはすでに亡くなっていたが、長谷川さんのご自宅にうかがうとまさかのその日が命日で運命的なものを感じる。
Noguchi began studying Taiguruma and decided to make one as a graduation work. He heard a Maki town officer talking about Taiguruma and discovered that Mr. Hasegawa had passed away several years ago. He went to visit Mr. Hasegawa's wife to report about his study and gather materials. Noguchi felt there was a kind of fateful link between the Hasegawa and him because the day he decided to visit was the anniversary of Mr. Hasegawa's death.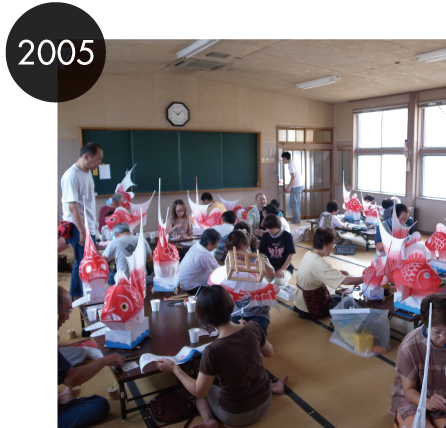 巻で鯛車制作教室をスタート
The first Taiguruma class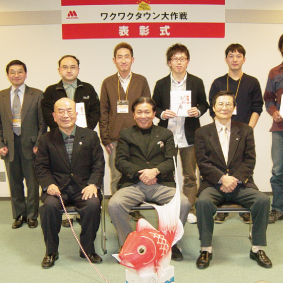 コンペで大賞受賞
Winning a competition
モスバーガー主催「ワクワクタウン大作戦」で大賞受賞。1年間活動支援を受ける。
The Taiguruma revival project won the "Wakuwaku town daisakusen"competition sponsored by Mos Burger. Mos Burger supported Taiguruma activities for a year.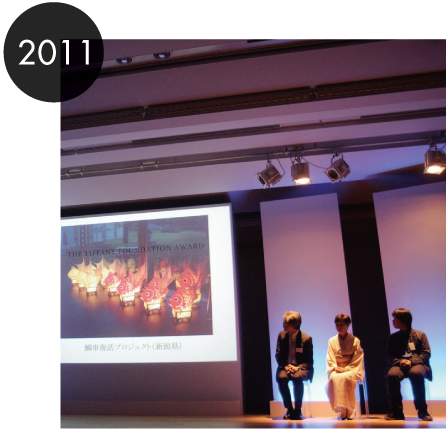 アメリカのティファニー財団より「ティファニー財団賞伝統文化振興賞」を受賞
The Taiguruma revival project won a Shinkosho award, which is the Tiffany Foundation Prize for promotion of traditional Japanese culture. More information can be found at the following link: http://jcie.or.jp/civilnet/philanprograms/tiffany/index.html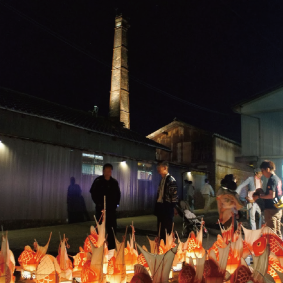 巻で「鯛の宵」を開催
"Tai no yoi"–the pageant of Taiguruma
2011年より毎年9月に巻の東浦通り、中吉川旧醤油蔵をメイン会場に「鯛の宵」を開催。
This is an event to introduce Taiguruma to people and enjoy viewing the illuminated Taigurumas. This event has been held every September since 2011. The Higashiura street and the former Nakayoshikawa soy sauce warehouse are decorated with many Taigurumas.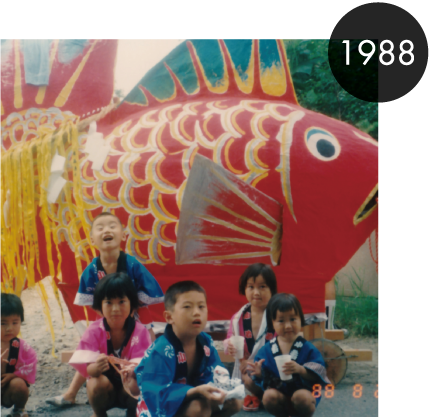 長谷川さんの鯛車を野口が引いた
Noguchi's first contact with Taiguruma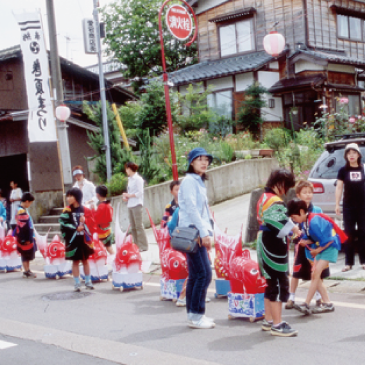 鯛車復活プロジェクトを発足
The Taiguruma Revival Project was started
さらに10台の鯛車をつくりこの年の巻祭りで復活させた!久しぶりの鯛車の登場にみんなが喜んでくれた。鯛車制作の取材に来た当時、町の広報誌を担当していた土田真清と意気投合し「鯛車復活プロジェクト」を立ち上げた。
Noguchi made 10 Taigurumas for the Maki festival in 2004. It had been such a long time since the unique Taigurumas appeared in the festival. Townspeople looked pleased with the restored Taiguruma. Noguchi met Mr. Tsuchida Masumi, who was in charge of a public relations magazine, while he was researching the method of crafting Taiguruma. In order to keep the Taiguruma tradition alive, both Noguchi and Tsuchida established the "Taiguruma revival project."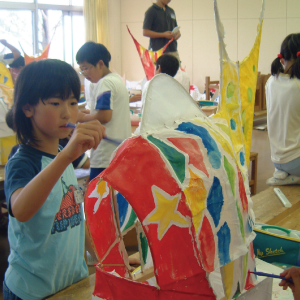 小学校で鯛車教室スタート
The workshop goes to elementary schools
2005年から小学校での鯛車教室も毎年開催。
With an increase of popularity, the Taiguruma workshops also began finding their way into elementary schools. They have been held every year. As time passes, more and more younger generations are learning the history of Taiguruma and can experience building one.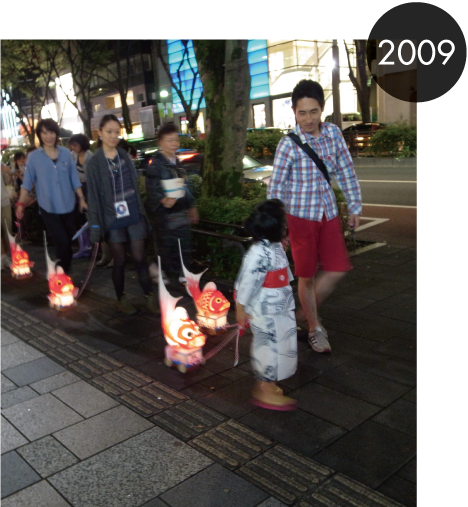 原宿で表参道教室をスタート
Omotesando class started in Harajuku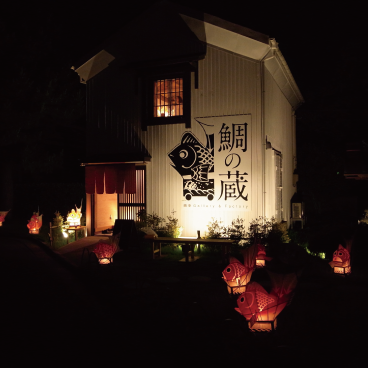 巻に「鯛の蔵」が完成
"Tai no kura"–the warehouse of Taiguruma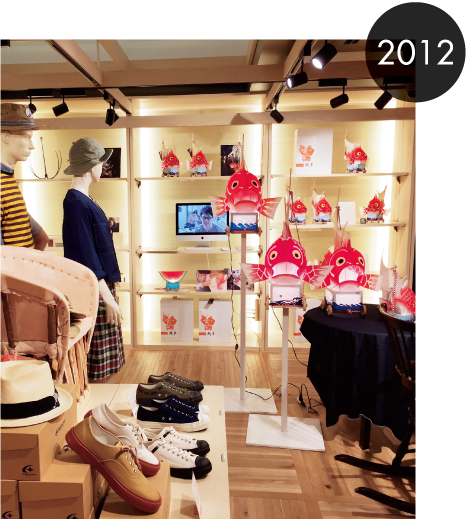 「Beams」で鯛車の取り扱い開始
Beams begins to sell Taiguruma
鯛車復活プロジェクトの詳細をもっと見たい方はこちら